Speqto Expertise
Date – 26/07/2021 | Pawan Kaushik
Speqto technologies is one of the leading companies in the field of software development and IT consulting. In the modern Covid-19 pandemic world, a majority of the companies in the world have adopted work from home and remote work. This has led to a significant increase in the demand for various softwares, IT networking infrastructures, new start-ups who need end to end software solutions such as websites, mobile applications, payment gateways and other EPR solutions. Along with the increase in demand for various IT resources, the world has seen a significant rise in online shopping, ecommerce and online payments. This is primarily due to the restrictions on physical stores, lockdowns and promotion of contactless payment to curb the spread of the virus. Companies such as Flipkart, Amazon, eBay, Myntra and other shopping and ecommerce platforms have seen a significant rise in revenue generation and increase in the number of customers. Many business owners with physical stores have launched an online version of their stores and started home deliveries to meet the customer expectations and survive the pandemic.
This huge shift in dynamics and move of the world into the online platform, there was a huge gap between supply and demand for various IT and software related services. This presented an amazing opportunity for Speqto technologies to capitalize on and establish itself as world leader in software and IT development world. Our expertise is not limited to one technology or one domain; we have the capabilities of using various types and platforms of technologies to create unique and great solutions for our clients from various sectors and domains based on their individualized requirement. Our expertise can be classified based on two aspects

1. Use of Technology.

2. Domains and industries we work with.

Over the course of this blog, we look at each of these aspects to understand why Speqto Technologies is the ideal technological partner.
Use of Technology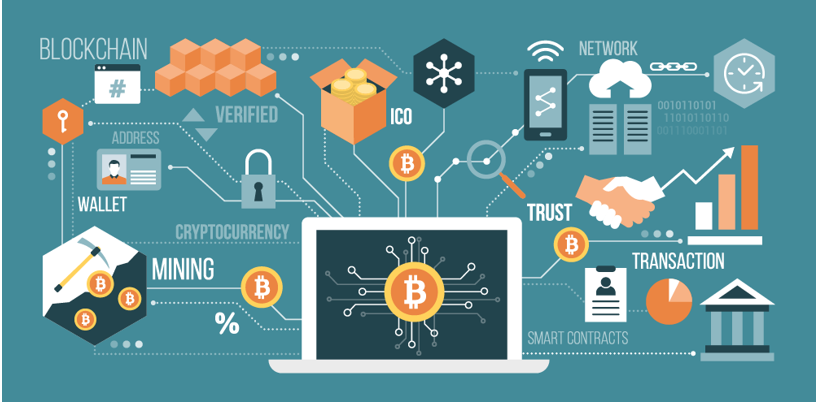 Speqto technologies is one of the few leading companies, which the capability and resource to use, implement and innovate our clients based on their unique technological requirements. The various technologies at our disposal for our clients are :-

1. Artificial Intelligence:- Data analytics, data science, machine learning, predictive analytics and artificial intelligence are the latest innovations in automation and large-scale analytics. Our team of data scientists and artificial intelligence engineers are experts in leveraging these technologies to create the best solutions for our clients.

2.Blockchain:- Custom built blockchain solutions are world renowned for their quality standards, user friendliness, easy integration and security. We create innovative solutions, which push our clients towards success and business growth.
3. Digital Marketing:– Our creative and unique approach in designing digital marketing strategies based on the nature of our clients' business and target audience has a huge record of accomplishment of being successful. Our reach extends to the application of all the major digital marketing techniques such as social media, search engines, organic marketing, inorganic marketing, email campaigns and even influencer marketing.

4. Website Development:– Websites are the most important resource for any business. Our websites are designed to attract more customers and encourage them to spend more time on the site, which increase the possibility of a sale. Websites by Speqto Technologies are easy to use, lost maintenance, easy to deploy and cost effective.

5. Mobile Application Development:- Speqto technologies have the unique ability to build mobile applications on any platform using any technologies, which is exactly what are clients are looking for. Mobile apps developed by Speqto technologies have a history of being one of the greatest resources in our client's arsenal, which resulted in tremendous increase business performance and productivity.

6. IT Infrastructure and Networking:– A company cannot grow with the help of IT infrastructure and networking. At the same time, it is crucial for this IT infrastructure and network to secure and should be low maintenance. Speqto technologies flourishes in fulfilling these requirements, as this domain is one of greatest strengths.

7. ERP Solutions:- Enterprise resource planning software are crucial to the day to day operations of a company. It can be used for scheduling, resource management, work allocation etc. Many companies rely on these softwares to a large extent to streamline their operations and create an effective and efficient work environment. Speqto Technologies is the go to companies to design custom ERP solutions.

8.SaaS:- Software as a service is one of the leading technologies being sold in the modern IT world. Speqto technologies has the expertise and the experience to create unique softwares with a wide range of features and functionalities based on specific requirements from our clients. Flexibility and Adaptability is our strength in designing and creating these software.

9. PaaS:– Thousands of products are created and sold every day in the IT world. These products are developed based on certain requirements and demands of the clients and industry, Speqto technologies will be playing with our strengths and expert capabilities to create products, which exceed our clients' expectations at under the market prices.

10. IoT:– IoT and similar technologies are in high demand in the industry primarily due to the features offered by these devices. Here at Speqto technologies, we do not create simple IoT solutions; rather we create smart services and products by integrating a simple IoT solution with artificial intelligence and blockchain to make it smarter and more secure.
Domains and Industries we work with
Our expertise does not with just the technology we use; rather extends to the domains as well. Over the years, we have developed hundreds of solutions, platforms, services and products in almost every domain in the world. Our developmental expertise extends to the following list of domains.
Due to our expertise, we have clients from all over the world from different industries, sectors and business domains who prefer working with us. Additionally, our range of expertise in terms of technology and industry domain gives us the unique advantage of working with companies and clients who have hybrid requirements in terms of software design and functionality. Integration and application of our services, for our clients and their business offerings is simple and easy. Along with our expertise, our experience plays a significant role in our high quality standard of our services.
1.Healthcare: In the modern pandemic world, the healthcare industry is in an over drive state. Their requirement for various tools, technologies, softwares, solutions and products have skyrocketed ever since the growth of the global pandemic. Speqto Technologies believes that we are responsible and strive to meet every single demand of the healthcare industry. Our services has proved useful in assisting various healthcare organizations fight the pandemic.

2. E-Commerce: Ever single the global lockdown and restrictions on traditional market places, the world of e-commerce has grown exponentially. New businesses are entering the world of e-commerce and existing companies are trying to expand in their effort to capitalize on the growing market size. With these changes in the industry, the demand for various IT related services has grown as well. Our goal is to support these companies in their aim to grow and become successful in the industry.

3. Manufacturing and Supply Chain: With the growth in e-commerce, industry in the recent past, the supporting industries such as manufacturing, logistics and supply chain industry grew as well. This created a huge demand for automation softwares, ERP solutions, Artificial Intelligence systems and many more. Speqto technologies is the perfect solution to create these custom softwares, solutions and services to support the growth and encourage further growth of these industries and domains.

4. Governmental Organizations and Non Profits: Governmental and no profit organizations need the same level of technological support to reach their goals and targets. We aim to support these noble tasks and help the development of the country and society one software at a time.

5.Financial and Trading: Financial sectors and Trading industries need technologies, which are secure and offer safety to the users on a unparalleled level. With a combined experience of over 40 years, Speqto technologies is an expert in implementing various technologies and building solutions, which are safe, secure, transparent and offer data protection of the highest standards.

6.Human Resource: Human resources and employees are the most valuable assets of a company. The success of a business is solely dependent on employees and their performance. Our clients choose Speqto technologies to help them build solutions which assist them in handling employees in the most professional, efficient and effective way. Our wide range of solutions for the human resource department helps streamlining and automate a majority of the tasks allowing our clients to free up tied resources and reallocate them for better purposes.

7.Transportation: Booking tickets for a plane, train or a bus is one of the biggest hassles for a consumer. It is time consuming and a majority of the platforms is not user friendly. Our team of experts help various businesses and our clients in the transportation industry create softwares, websites and mobile applications through which people can book any ticket with ease and in a matter of a few seconds. Additionally, our services are helping businesses revolutionize the transportation industry through online vehicle rentals for any purpose with the click of a button.

8.Real Estate: Real estate industry is considered to be one of the most challenging industries. People struggle to carry out transactions, safety, security is a big concern, and due to the involvement of multiple intermediaries, transparency remains a distant dream. We at Speqto technologies want to change the perception of the real estate industry by using our resources, expertise and skills to create solutions and softwares which help people with streamlining and securing the transactional process, promote direct buyer to seller communication there by increasing the transparency in the process and most importantly we prioritize hassle free experience for all the people involved.
Over the course of this blog, we explored various strengths, capabilities and expertise of Speqto Technologies and what makes us an ideal technological partner for our clients. Speqto Technologies is not a one trick horse; rather a treasure trove of technologies, capabilities and expertise. With our knowledge, expertise and experience we can help any business in any industry create any solution unique to their requirement and help them navigate the struggles and function at peak performance capabilities and grow in the industry.